Coconut Gouda Wedge (per pound)
Our Coconut Farmhouse Cheese has a healthy dash of coconut, added for extra flavor and creaminess. It is a unique cheese with a nutty taste and a touch of refreshing sweetness. Enjoy it with fruit or with crisp crackers and your favorite beverage.
Approx. 8 oz.

We ship most items nationwide
(excluding sandwich shop items)
Description
Traditional Style Handmade Dutch Cheese Stoltzfus Family Farm Deansboro, New York
With milk sourced from their own dairy farm in Deansboro, New York, Jake began creating cheese in the Dutch tradition. Still handmade in Upstate NY, Jake's cheese has its roots in Holland. It's turned daily on pine planks to ensure uniform age and perfection for at least sixty days and it's covered with a cream coating instead of a wax seal. It's also a raw milk cheese – no high temp pasteurization here. The results? One of New York's finest traditional style Gouda cheeses.
Once our cheese has been milk cream coated and naturally aged it lasts for 2-3 months on the shelf prior to opening. After opening just refrigerate and enjoy! Because our cheese is crafted and cut by hand, weight is approximate. Don't worry though; we err on the heavier side. Because, let's be honest – more cheese is always better.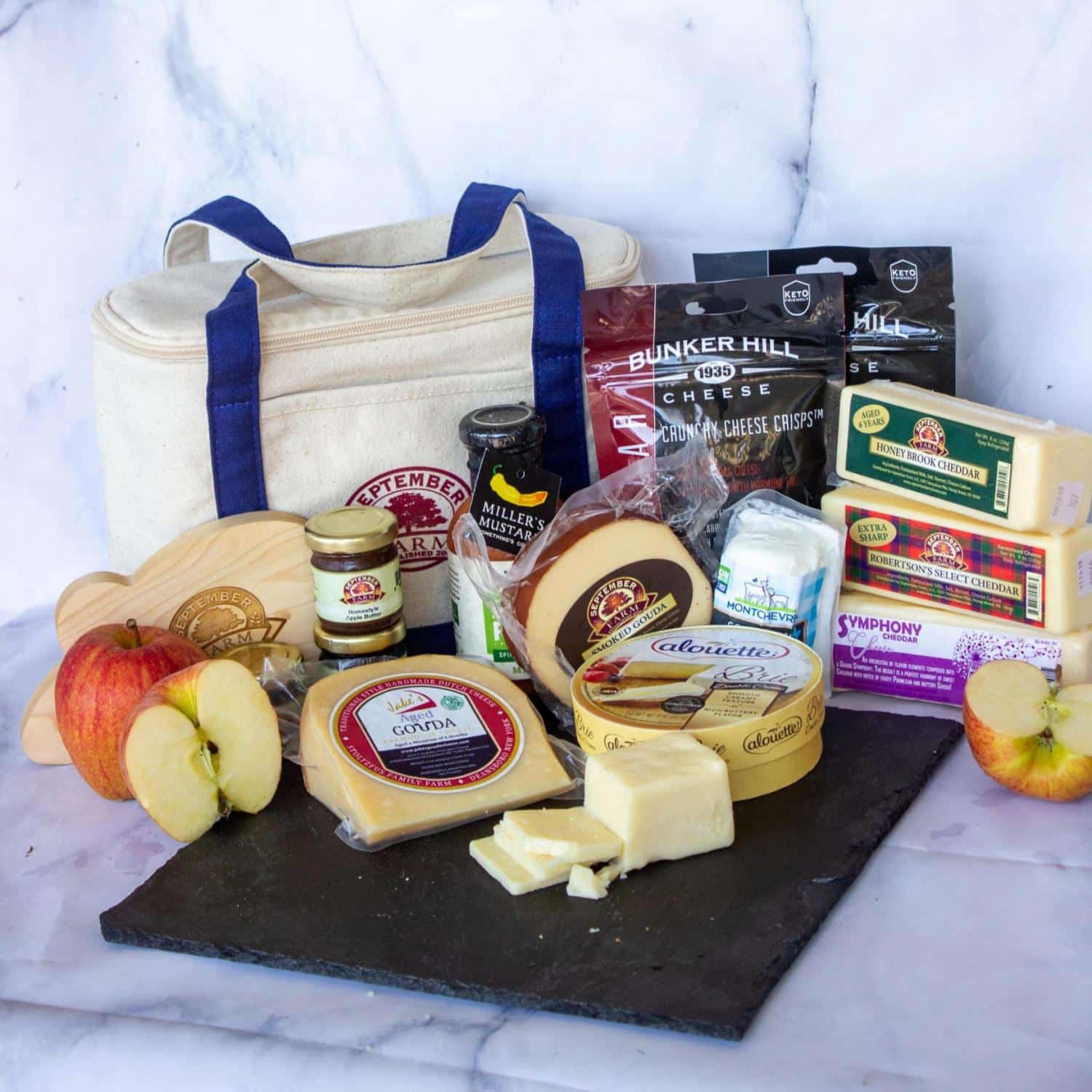 September Farm and Jake's Gouda
"Jake Stoltzfus from Jake's Gouda first visited September Farm back in the years when we were still making cheese on our farm. Jake was considering making cheese and was gathering information. Jake credits me with encouraging him to move forward with cheese making and for introducing him to Harold Schuller.
Harold Schuller is a sales rep here in the United States for Dutch-owned company, C. van't Reit Dairy Technology, a manufacturer of dairy processing equipment. At the time we owned a C. van't Reit cheese vat and were making award winning cheese with Harold's equipment and expertise. It's fair to say Harold is an expert in cheese processing and has become a personal friend of our family. In the early years, we relied on him for advice and guidance.
Jake Stoltzfus purchased a cheese vat and various equipment from Harold Schuller, acting on Harold's advice, Jake decided to pursue making authentic European Dutch-style Gouda.
Several years later our family again turned to Harold Schuller for the purchase of processing equipment and advice for our new venture: September Farm yogurt products. Harold encouraged us to make what he called a "smooth and creamy" blended European-style yogurt. To accomplish this Harold recommended the equipment we needed as well as a yogurt recipe and process to achieve this style yogurt. One of the key differences between European and American yogurts is the incubation period. Most European yogurts have a much longer incubation period than American made yogurts. To incubate for longer periods of time, (up to 10-12 hours) it's critical to have the highest quality equipment made with the highest grade stainless steel in order to maintain proper temperature.
Harold also assisted us in designing and purchasing properly matched yogurt cup filling equipment needed to cup and seal our yogurt. The company he recommended for this is based in Israel. Harold put us in contact with their Ohio-based sales rep.
This is where the idea for September Farm to also process its own European Dutch-style Gouda began to take shape. Harold suggested we add a few attachments and features to our yogurt processing vat that would enable the vat to double as a Gouda processing vat. This seemed like a great idea for September Farm because at this point yogurt sales and potential success were unknown.
The estimated time to manufacture and ship our cup-filling machine from Israel and the vat from Holland was estimated to be in close proximity. As it turns out, the vat arrived several months before the cup-filling machine. In addition, September Farm also had to purchase a cheese press, special Gouda molds, a brine tank, a humidifier for aging, and special pine boards from Holland for aging Gouda. (The pine boards are essential to aging the Gouda properly as the pine boards enhance the aging and flavor profile.)
We decided to begin Gouda production immediately upon the arrival of our equipment from Holland. This allowed me several months to train with Jake and Sylvia from Jake's Gouda prior to the arrival of our equipment. I personally made several trips (in our RV) over a period of months to Jake's Gouda in upstate New York to learn the art of Gouda cheese making. Jake and Sylvia were extremely helpful and became very dear friends of ours. I was also able to make some of our own September Farm Gouda at Jake's Cheese processing facility prior to our equipment arriving.
As it turns out I fell in love with the challenge of perfecting our new line of Gouda and continued making and aging Gouda for several years. Ultimately as our eventual yogurt sales began to grow, we were faced with a difficult decision. Should we continue to make Gouda as well as yogurt? Or, have Jake make our Gouda and focus our energy and resources on yogurt production? After careful consideration and discussions with Jake, we decided to focus our attention on yogurt.
I have visited Jake and Sylvia at Jake's Gouda several times since they started making our Gouda, working directly with Jake to develop some of our unique flavors (one example being our Coconut Gouda). Jake and his family use fresh milk from their family dairy to produce the award winning Gouda."
Dave Rotelle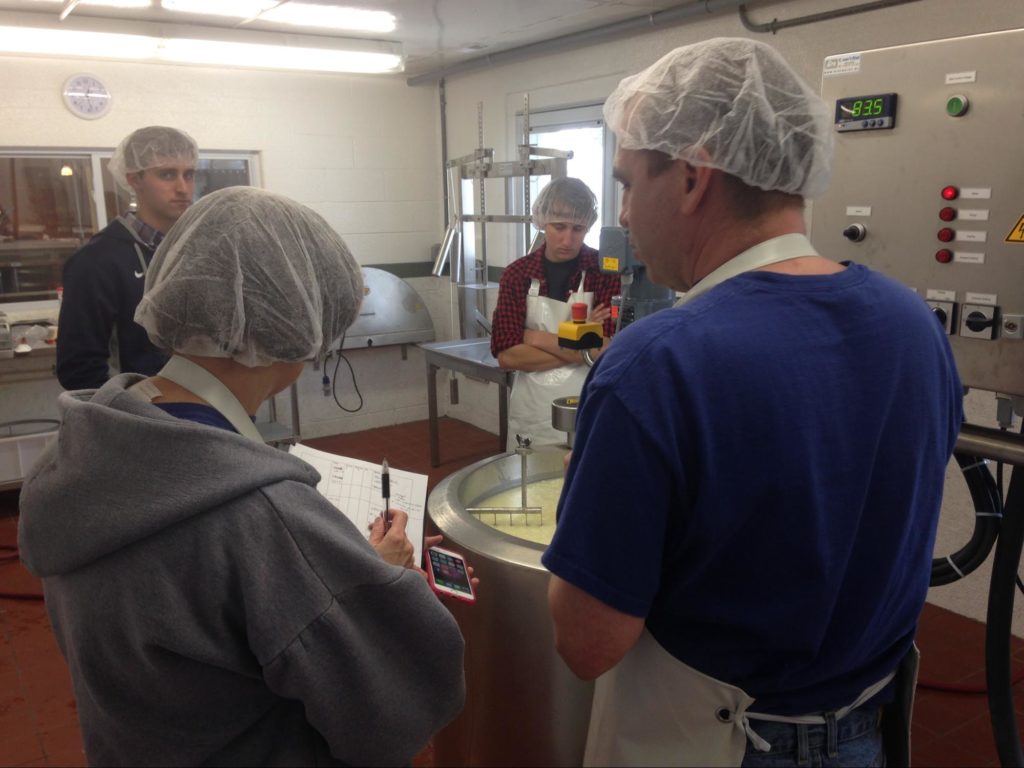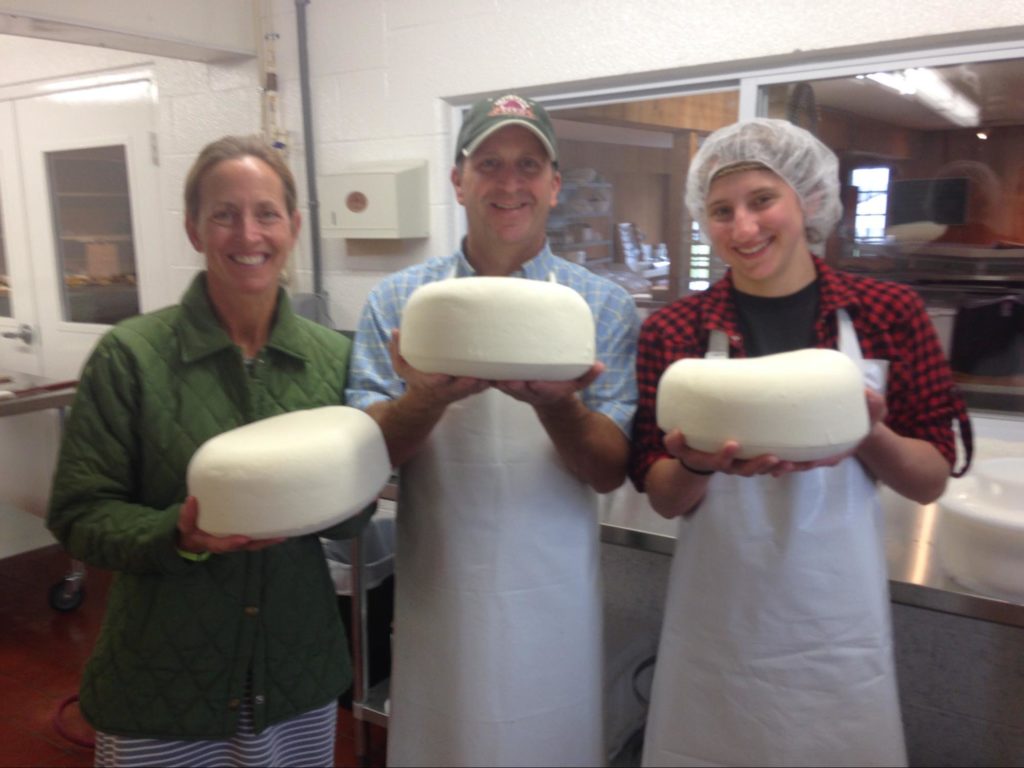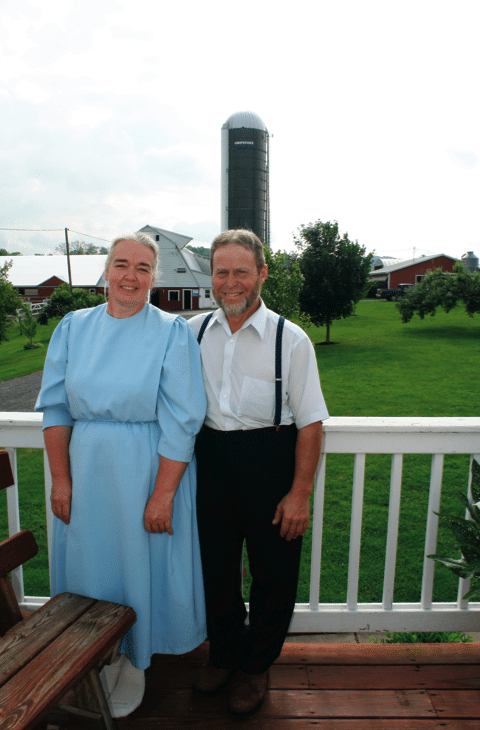 Awards
Jake's Gouda even placed fourth in the US for the Gouda Cheese category at the World Champion Cheese contest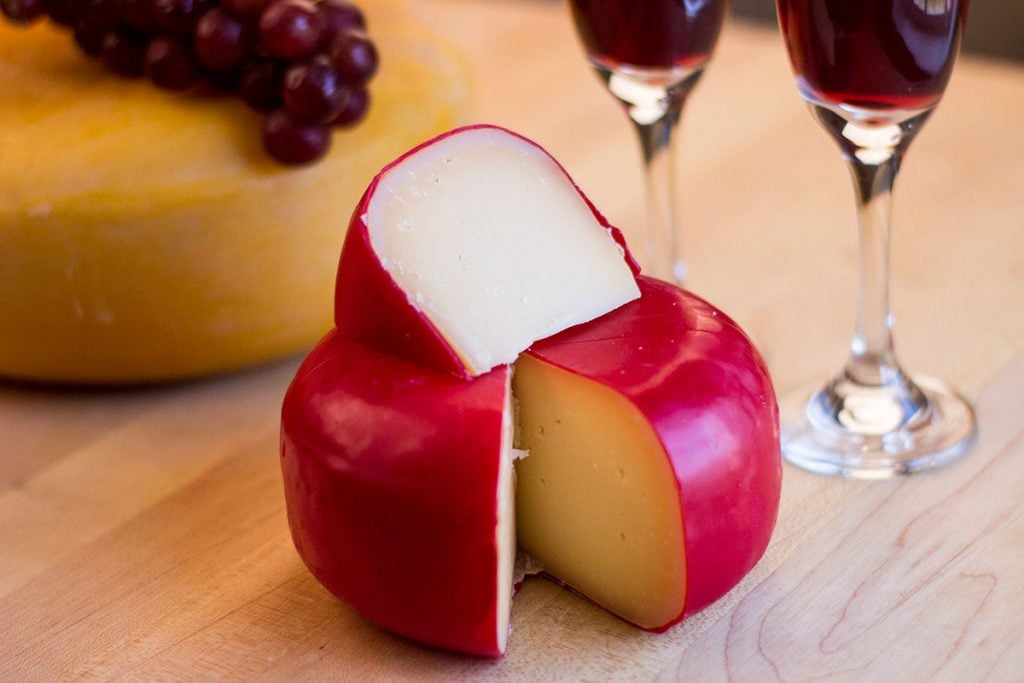 Attributes
Color: Pale, buttery yellow body

Texture: Creamy and smooth but dense, becoming somewhat waxy with age.

Flavor: Buttery, nutty, becoming somewhat caramel and butterscotch-like, not sharp with age. Available mild, aged, smoked and flavored with spices and herbs.

Typical Composition: 45% maximum moisture, 46% minimum milkfat solids.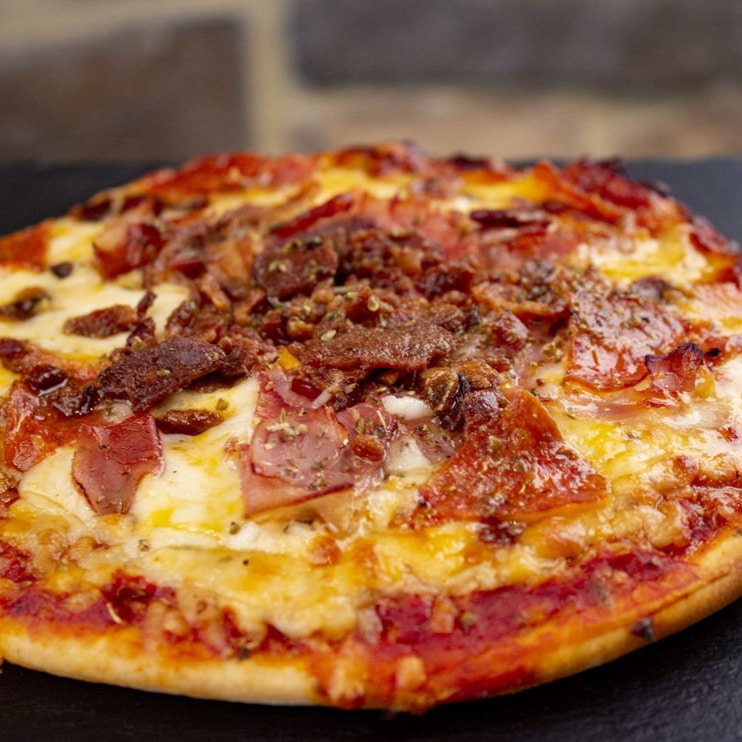 Uses
Gouda's melting ability makes it ideal for sauces, soups, casseroles and roulades. It

can be blended easily with other cheeses to build signature gourmet pizzas. Gouda is available flavored with a variety of herbs, spices and more. Smoked gouda is a popular snack cheese, and aged gouda is perfect for the cheese course. Aged gouda, with its robust nutty, caramel and butterscotch flavors and easy melting properties, is an excellent addition to sauces and cream soups.

Ease of shredding and melting makes these cheeses a good topping choice for hot or cold applications. Good choice for casseroles or roulades. Popular in gourmet pizza blends.

Melts well, particularly well-suited for casseroles and fillings. Slices and shreds well for use on sandwiches or as a topper for hot or cold appetizers, entrées and vegetables. Flavored versions give signature taste to gourmet pizza blends. Any version is applicable for cheese course.
We guarantee all products to arrive in satisfactory condition to the address given if delivery can be made when first attempted. Delivery services will not forward our packages and many of our gifts can't stand reshipping. We cannot assume responsibility for perishable products if we are given an incorrect address.
Orders are shipped Monday through Friday. Consideration is given when shipping to warmer climates to ensure fastest shipping methods. We ship our products UPS or USPS.
Orders are processed and shipped Monday through Friday. When shipping to warmer climates, we avoid shipping over the weekend.
Time Most orders arrive between 3-6 business days, depending on processing time and destination. If you would like your order to arrive on a specific time frame, please make note of this in the comment section of your order.