The only way to know whether your cheese is lip-smacking good, is to try it! Sometimes, however, the opportunity for culinary adventure may be hindered by the risk of a disappointing flavor. When you hear of someone with culinary expertise who "will work for food" because it is just that good and delicious, rest assured you have found some insanely scrumptious cheese!
September Farm is that heavenly and cozy "one of kind" combo bringing you the best of traditional family farming, homemade cheese, and heart-warming food all wrapped up and served inside a darling country store. This spot in paradise, nestled in Honeybrook, Pennsylvania, greets you with the smells of gourmet cheese sandwiches and mouth-watering award-winning cheeses as you reach the front of their wide wrap around porch. Don't mistake this Farm as a place for simply cheese production, the September Farm offers an authentic country experience from beginning to end.
Yes, September Farm just partnered with the brilliant culinary masterminds of Food Network in an exciting new episode!
"Will Work for Food" is a thrilling cooking adventure show directed by FOOD NETWORK Kitchen starring famous Instagram Cake Baker and Decorator Chelsea White (@Chelsweets) who stopped by September Farm for a cheese creating lesson! Chelsea also sampled the town's renown, homemade cheese!
Dave Rotelle, owner, and creator of September Farm never would have dreamed 13 years ago, while perfecting his first 2 pounds of fresh mozzarella in his home kitchen, that his cheese would eventually star on the famous FOOD NETWORK.
"From 2 pounds of cheese to the Food Network Show!" Dave shared how this was a surreal opportunity for their small and growing family-run business. "The night before they arrived, I kept thinking…WOW."
The Food Network team and Chelsey showed up at September Farm early the next morning and spent a fun, intense, and high energy day capturing the fascinating adventure of creating award-winning cheese!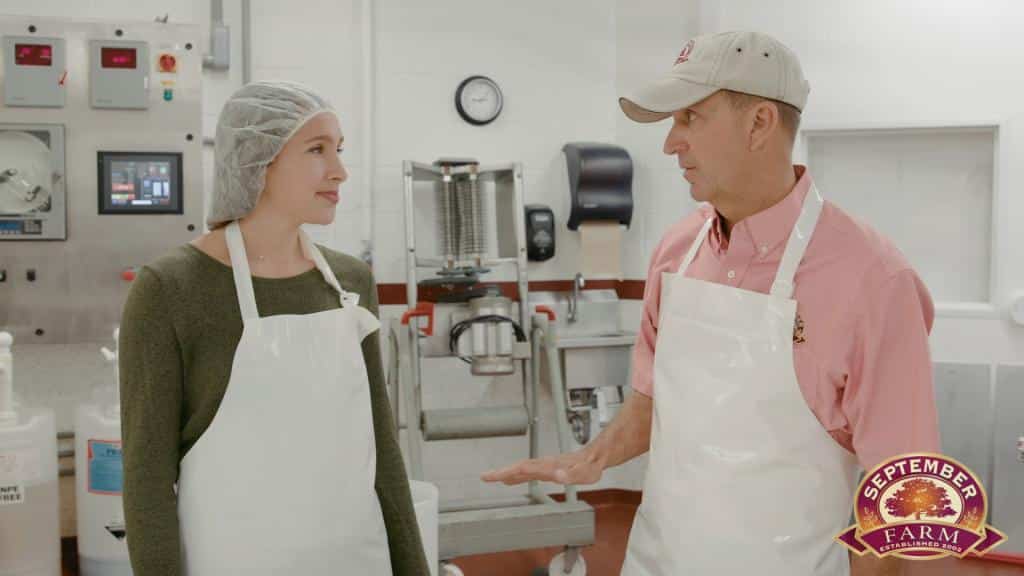 Dave Rotelle and Chelsea White worked side by side, as the professional cheesemaker guided the professional cake decorator through the cheese making process.
"We had fun together. She was a very sweet girl and down to earth. She made it very enjoyable," says Dave.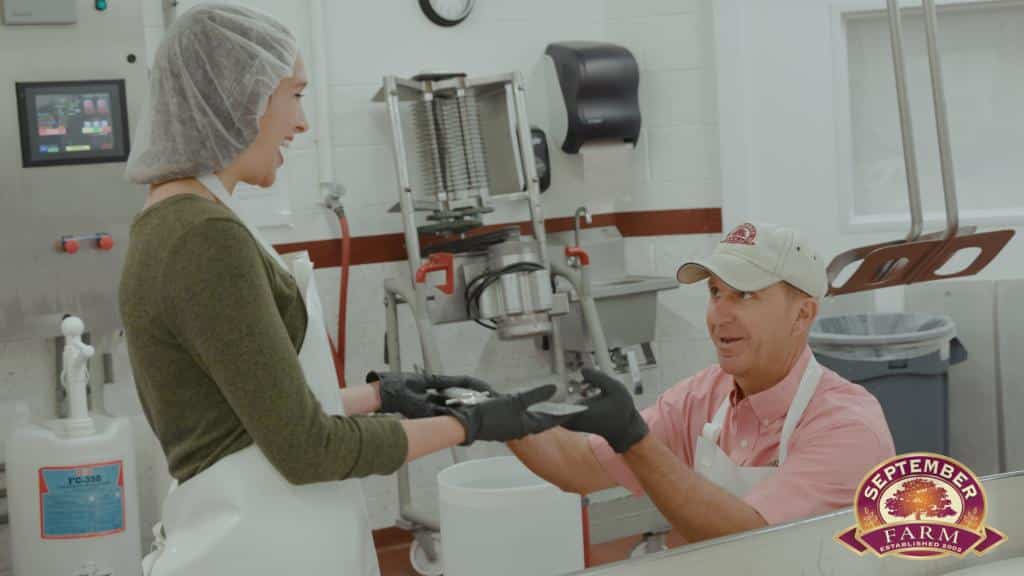 From the beginning steps of adding the cheddar cheese culture to the final details of waxing the freshly created cheese, the Rotelle Family guided Chelsey to satisfying cheesemaking success.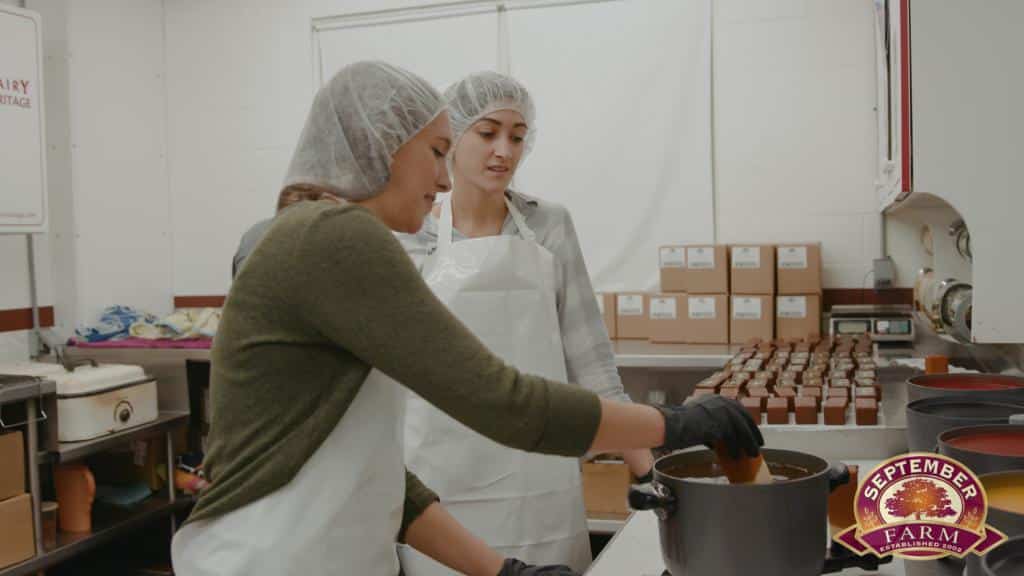 Dave affirmed Chelsey's hard work, "She did a great job! She really did."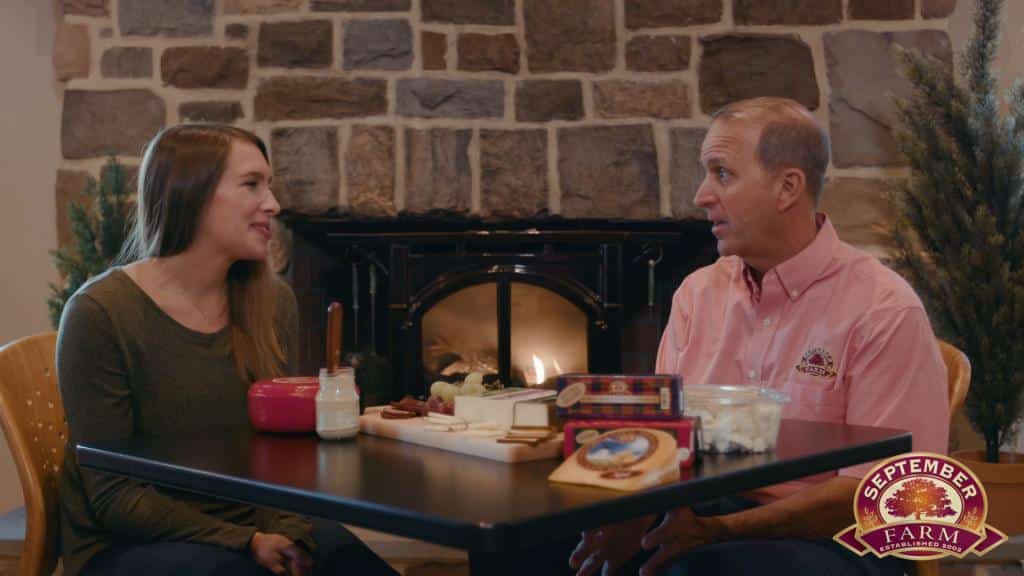 After a long day of lots of laughter, good food, fun…. oh, and work, Dave and Chesley sat down to sample some of September Farm's best cheeses. With just one bite, Chelsey White was a fan!
Dave sums up his experience working with Chelsey and the Food Network with these three words, "Very Special Day".
"It was one of those experiences that you will have fun sharing over and over with your grandchildren, the Food Network came to September Farm one day, and…"
Dave sent Chelsey and everyone from the Food Network home with a super flavorful gift, a September Farm's Sampler Box of Cheese.
"Having the opportunity to give Food Network the inside scoop at September Farm was a huge blessing. We felt so fortunate. It was a gift."
Dave and his family's specially crafted cheese is making waves! From CBS Philly, Fox 29, and now to the Food Network, the mouth-watering flavors of their specialty cheeses has everyone's stamp of approval.
Basically, this family-run business is the happy culprit of a delightful cheese addiction.
The show was featured on the Food Network's Facebook Page and can still be viewed on the Food Network Kitchen App.
Check out the show, Will Work for Food, episode S1E2: The Art of Cheese, and see the action and catch the fun of a day in the life of an award-winning cheesemaker!
Plus, if you want to get a super flavorful deal, when you watch The Art of Cheese Episode, September Farm will gift you with a discount code for 10% off their delicious Sampler Box of Cheese that went home with Food Network and Chelsey.
Just add a sampler box to your cart, and use this coupon code at checkout: foodnetwork10
#FoodNetworkKitchen @foodnetworkkitchen