In order to avoid any delays over the weekend. Orders placed after (ex. 1:00 on Thursday) will be shipped out the following Monday.


A mild, softer bodied cheese with smaller Swiss type holes made in a loaf shape for easy slicing. It's slightly creamier than regular Swiss cheese. A Lancaster County favorite!  
Approx. 1 lb.

We ship most items nationwide
(excluding sandwich shop items)
Description
A Lancaster County favorite!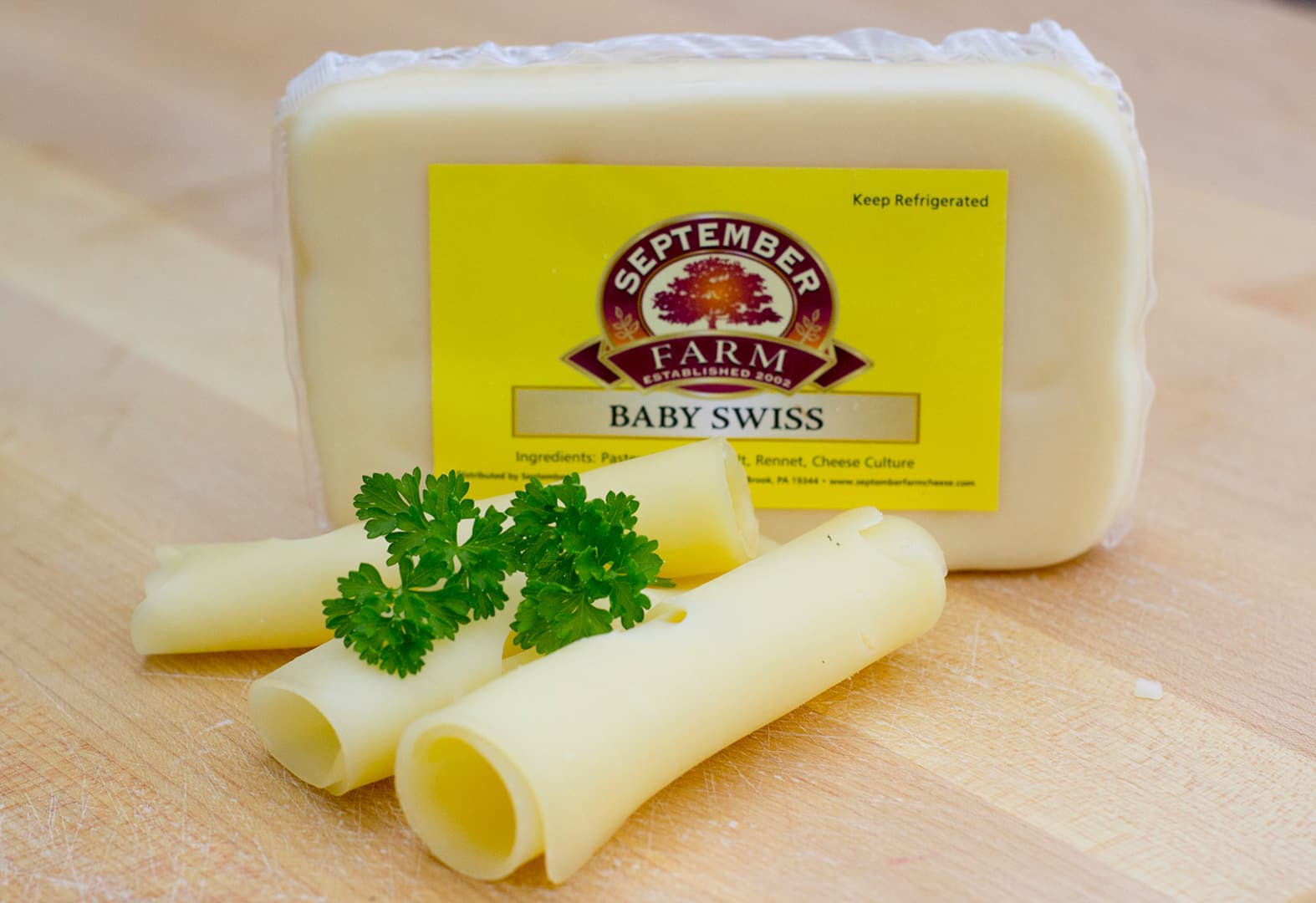 An American original, Amish dairy farmers in Pennsylvania and Ohio are credited with producing the first baby swiss in the mid 1900s. The name "baby swiss" was chosen because it was a "baby" version of a traditional Emmental Swiss wheel, smaller in size than traditional swiss, aged for less time, and with smaller holes or eyes than traditional swiss.
The most distinctive feature of swiss and baby swiss cheeses are likely the holes or "eyes" in these cheeses.  This is caused by a specific proprionic culture added to the cheese that gives off carbon dioxide. Although today swiss cheese comes in many different shapes and sizes, traditionally swiss was made in 200 pound wheels.  This was the maximum size wheel one man could handle in the aging room. During the Middle Ages, cheese was taxed by the piece, so a large wheel was also a clever way to reduce taxes. 
Closely related, baby swiss differs from traditional swiss in a few ways.  Baby swiss is traditionally made with whole milk, while swiss cheese is made with part-skim milk.  Part skim milk is responsible for creating the firmer consistency in swiss cheese.
Shelf Life
Store at refrigerated temperatures between 33-40°F for up to six months. Proper sanitation when handling these cheeses will greatly increase their shelf life and quality. Freezing is not recommended.
Attributes
Color: 

Pale, buttery yellow.

Texture: 

Soft, smooth and silky with small eyes. Creamier than traditional swiss.

Flavor: 

Buttery, mild, creamy and somewhat sweet.

Typical Composition: 

37.5-40.5% maximum moisture, 23-27% minimum milkfat solids.
Uses
Great for slicing or shredding.  Finely shredded or thinly sliced, it melts beautifully, and firms up after cooling.

Swiss cheese is commonly found in fondues, on top of soups, ingredients in baked goods, soups, sauces, quiches, gratins, gourmet pizza applications and more. Swiss provides good flavor and melts wonderfully when baked into dishes.

Easy to slice. European-style, gourmet appeal. Range of appealing flavors, from mild baby swiss to nutty swiss. These cheeses melt well and can be used in frozen/microwaveable applications. Add both flavor and texture to any hot entrée or side dish

Melts readily, particularly well-suited for soups, sauces, fondues, casseroles and fillings. Slices and shreds well for use on sandwiches or as a topper for hot or cold appetizers, entrées and vegetables. Because it is made with whole milk, it will remain softer after melting and cooling, referred to as "post melt chew," in hot sandwich applications such as a Reuben.
We guarantee all products to arrive in satisfactory condition to the address given if delivery can be made when first attempted. Delivery services will not forward our packages and many of our gifts can't stand reshipping. We cannot assume responsibility for perishable products if we are given an incorrect address.
Orders are shipped Monday through Friday. Consideration is given when shipping to warmer climates to ensure fastest shipping methods. We ship our products UPS or USPS.
Orders are processed and shipped Monday through Friday. When shipping to warmer climates, we avoid shipping over the weekend.
Time Most orders arrive between 3-6 business days, depending on processing time and destination. If you would like your order to arrive on a specific time frame, please make note of this in the comment section of your order.