order cheese, we'll do the rest
If there's one thing we've learned over the past few months, it's that almost anything you want can be purchased online and brought to your doorstep: mattress in a box, home office supplies, your weekly grocery list, or a box of fancy cupcakes for your next party.
How about farm fresh cheese delivered straight to your door? That, too, is just a few clicks away at septemberfarmcheese.com.
Try googling "buy cheese online" and you'll find a wide spectrum of "run-of-the-mill" grocery store cheeses for sale. Artisan cheese from your favorite local farm market or creamery, however, is often limited to in-store sales only. And, while my favorite way to shop September Farm cheese will always be at the beautiful country store and farmer's market, it's not always possible to do so. That's why, from our small beginnings, we have worked hard to create an online marketplace with easy ordering and a personal commitment to great packaging and fast shipping. We continue to expand our online offerings to include our wide variety of cheeses that were once in-store only.
Buy Cheese Online, we ship via UPS or USPS nationwide, and orders are processed and shipped Monday through Thursday noon. Consideration is given when shipping to warmer climates to ensure the fastest shipping methods. Most orders arrive between 3-6 business days, so you can have your cheese and eat it too–soon!
September Farm cheese is a product with a real story and real people behind it. We start with 5,000 pounds of local milk from our neighboring dairy, and our cheese maker, Vernon, turns it into beautiful blocks of cheese to be aged. Out of the aging room, each bar of cheese is carefully cut and packaged by hand by our team of skilled and efficient girls in the packaging room. Over the years my family has had fun dreaming up creative combinations of flavored cheeses along with clever names to give each one. September Farm takes a well-loved dairy product and turns it into an extra special treat.
For years, September Farm cheese has been a staple in my refrigerator. I love having a few bars of September Farm cheese on hand for easy entertaining and gift giving (especially if I'm feeling short on time, ingredients, or creativity!)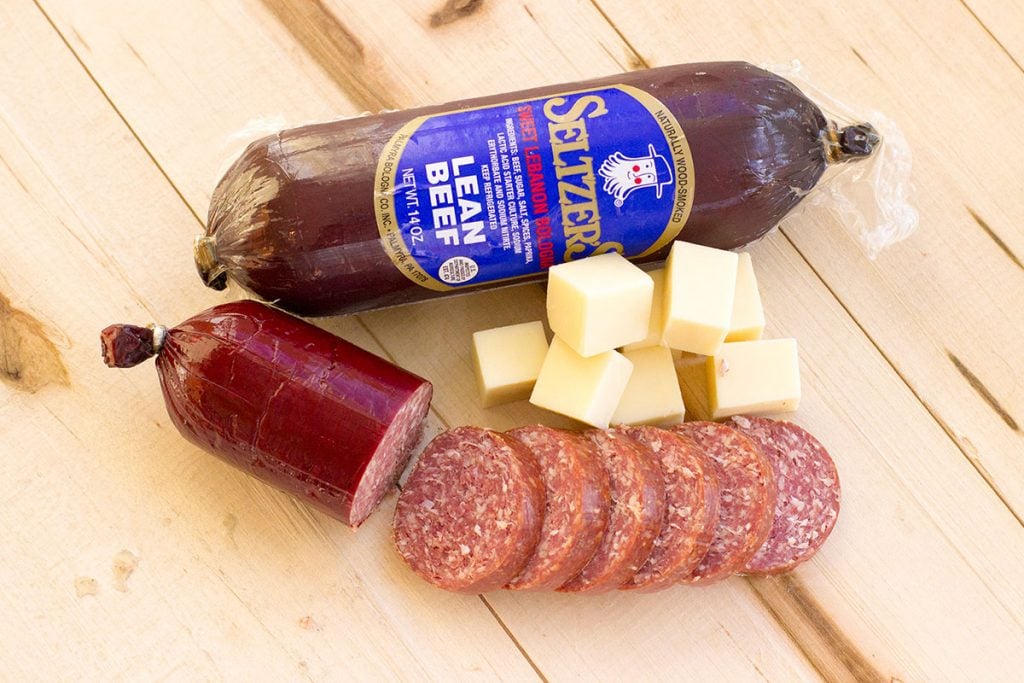 A bar of our waxed cheddar tied up with ribbon along with a note makes a great little thank you gift (for the hostess, the babysitter).
Shop now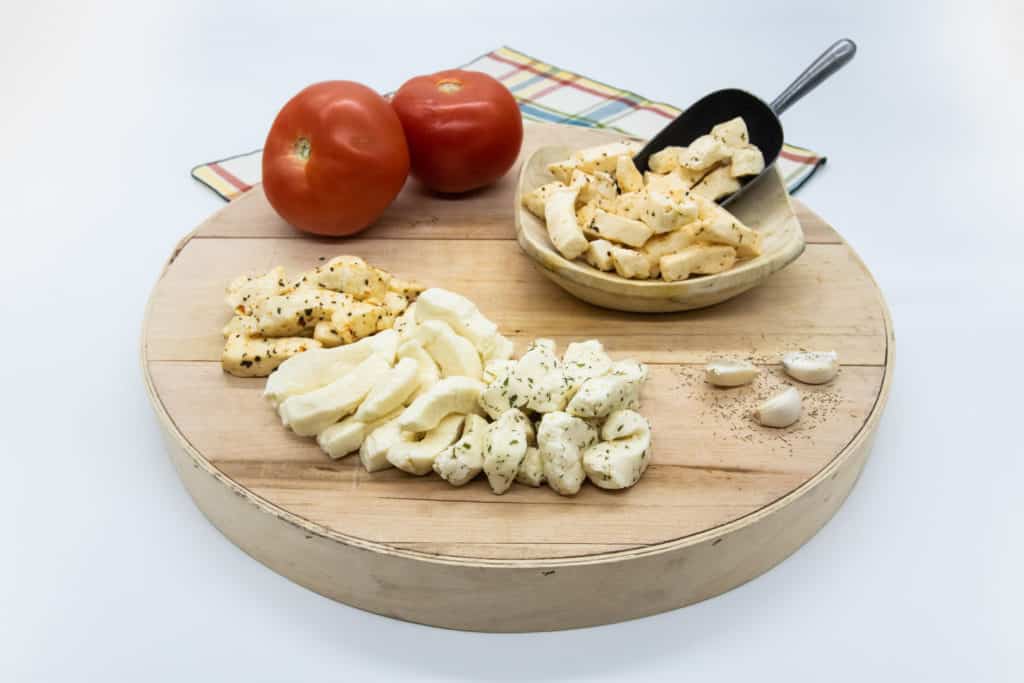 Buy Fresh Cheese Curds and have them delivered straight to your door. Our cheese curds are made in our own vat at September Farm Cheese.
Shop Now
Make up a quick cheese and cracker plate for an effortless appetizer. (This is a great way to keep hungry guests waiting when dinner is taking a bit longer than expected.)
shop now
Mix 8 ounces of softened cream cheese with 8 ounces of sharp cheddar and add a tablespoon of Halladay's dip mix for a quick and easy cheese ball. Roll in pecan meal, dried herbs, or nuts of your choice. My favorite is Lobster Bisque, and is always a big hit with guests!
shop now
September Farm cutting board
Place a few bars of cheese (sliced or left in the packaging) on a beautiful gifted plate for a thoughtful housewarming or baby gift. (Or use our September Farm cutting board!)
Shop now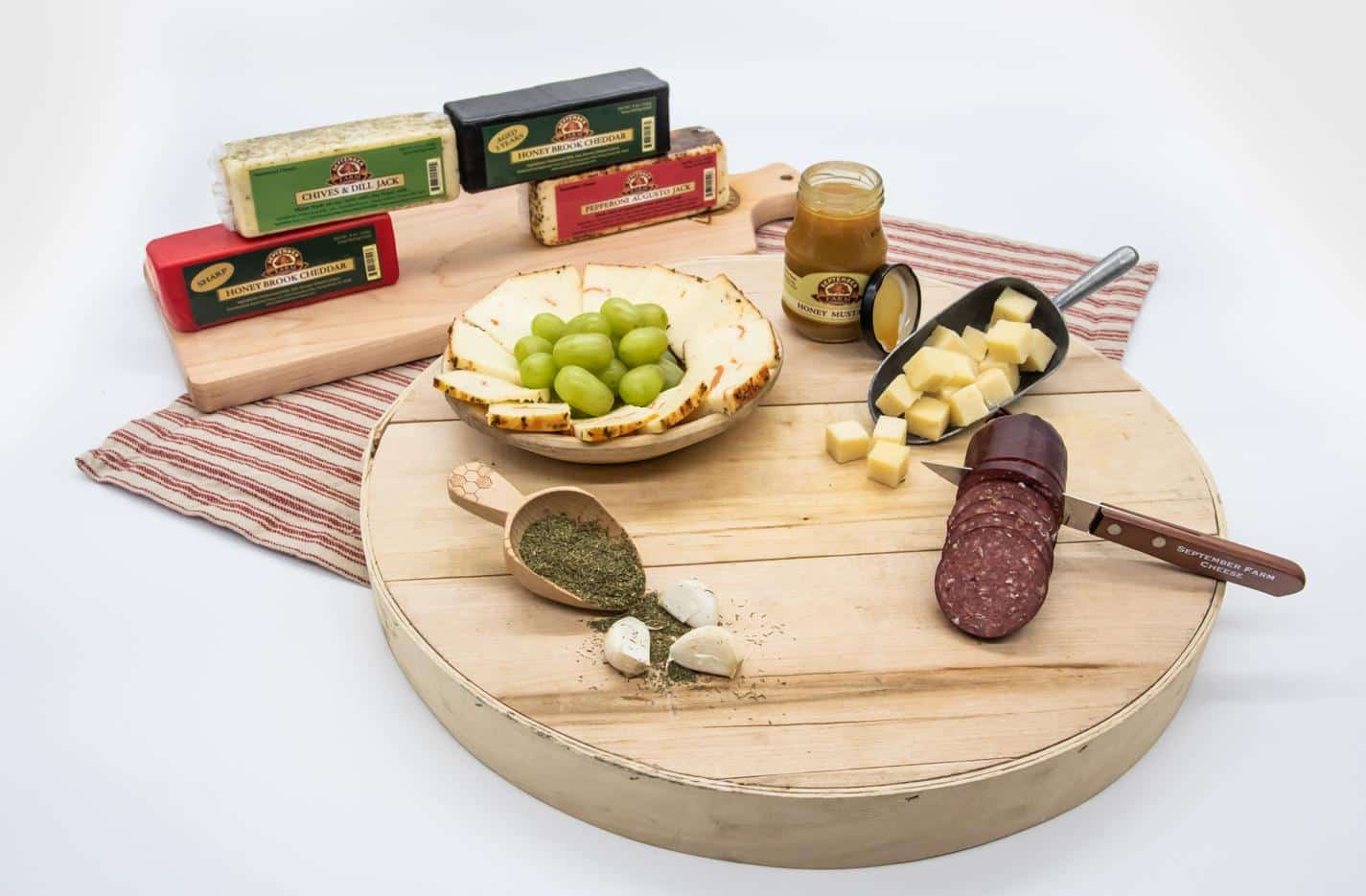 Get fancy and make a charcuterie board for your next party! Traditionally, a platter of cured meats, this trendy appetizer has grown to include a variety of cheeses, fruits, nuts, and spreads. Try blackberries, figs, and a jar of September Farm mustard to really elevate this spread!
shop now
Join our
Cheese of the Month Club
to receive a monthly shipment of three cheeses. Each package includes approximately 1.5 pounds of cheese with easy-to-follow recipes and helpful tips for using your cheese.
Did you know?
Unopened, cheddar cheese keeps for a year in your refrigerator! (Our Monterey Jack cheese keeps for six months.) This makes cheese a risk-free item to keep on hand- no worries that it will go bad on you in a hurry!
Shari Zook
I do love a good cheese, a good family, and
a good story
. All three come together in . . .
September Farm Cheese
. If you live near Lancaster County, you already know about September Farm. Their beautiful store is the place to stop for amazing fresh cheese, sandwiches, ice cream, and more. But did you know you can buy September Farm products from
their webstore
and have them shipped to your doorstep? The
Rotelle family
has been involved in food production for four generations. In 2007, Dave and Roberta established September Farm Cheese, using milk from their own excellent dairy to produce the finest quality cheese. Since then, September Farm has become ever more widely known for their delicious creations. I've loved every one of the cheeses I've tried: they're creamy, nuanced, and perfectly textured. I've also visited September Farm's lovely
store
in Honey Brook, PA, sampling good things and making purchases. I love visiting on location, but it's not always possible – so I'm really excited about their growing online presence!